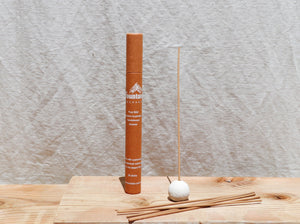 Natural incense sticks made from Premium Wild Western Australian Sandalwood (Santalum spicatum). These natural, incense sticks are made from our premium Wild Sandalwood Powder. They are very fragrant and leave a long lasting aroma throughout the home. 

Contains 30 Premium Sandalwood Incense Sticks (with 5 bonus sticks), each stick burns for approximately 50 minutes.
The Sandalwood used in these incense sticks is made from pure Wild Western Australian Sandalwood that has died naturally in the desert and is collected by licensed harvesters. The Sandalwood regeneration program ensures that there will be a sustainable supply of Wild native Sandalwood grown throughout Western Australia.