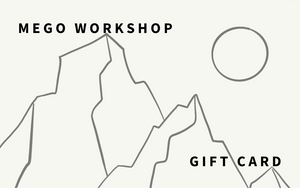 Looking for the lovely gift for your favorite crafter? Mego Workshop Gift Cards can be used at our online shop, for yarns, tools, fabrics, kits and accessories.

Give someone the gift with our Mego Workshop email gift vouchers. Can be sent and received on the same day, your gift will land straight in their inbox.
You will receive a Digital Gift Card via email shortly after ordering to the recipient and cannot be held for a later delivery date.
Using Gift Cards :

Can a gift card be used more than once?
Yes, provided there is still a balance remaining on the card.

Can more than one gift card be used towards a purchase?
Yes. You can redeem another gift card during checkout.

Can a gift card be used to buy a gift card?
No, you can't use a gift card to buy another gift card.

Can a gift card be used to pay for shipping and taxes?
Yes, gift cards are applied to the final order total which includes shipping and taxes.

Can gift cards be used in conjunction with a discount code?
Yes, gift cards are a form of payment.

Can I apply a refund to a gift card?
Yes. If you used a gift card to pay for the purchase, then you can apply the refund to the gift card.