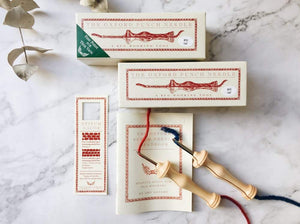 Oxford punch needle is known as the best tool in this craft market, many people often ask which size is good to buy? we pack the two most popular sizes #10 regular and #14 Mini for you to collect them together!

you can choose:

Boxed - With a decorative collector's box, stitch gauge, and helpful handbook. This 28-page booklet includes illustrations and complete directions telling you everything you need to know to get started. Materials needed, frames, how to stretch your rug on the frame, how to punch, how to hem your rug, rug care, and other key topics are all discussed.

Unboxed- Only tools and stitch gauge
Made in USA.