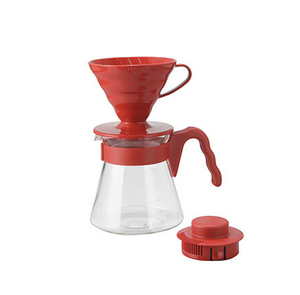 Simplicity at its best! Simple budget friendly kit to share a pot at home.

This set comes with an 02 size plastic V60 dripper, an 02 size borosilicate glass server, filter papers and a coffee scoop, all you need to add is coffee and water to start brewing.
Only server is safe for use with microwaves.
Size / capacity
3VDS-3012R: Width 130 x depth 107 x height 174 mm
Capacity 360ml 1-2 cups
Materials / Ingredients: Glass bowl / Heatproof glass
Lid, Handle / Polypropylene
Bushing / Silicone rubber
Made in Japan